You can purchase a package of Metro Magnets from Spacing magazine's e-store (the maker of this awesome product). BUY NOW »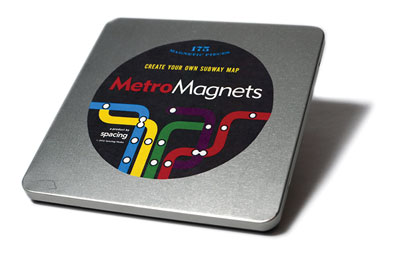 What Are Metro Magnets?
Each set of Metro Magnets contains 175 magnetic strips that you can arrange together to form a series of subway lines and a transit system for your imaginary metropolis!
Who Should Buy Metro Magnets?
Metro Magnets are perfect for parties, at the office, in the classroom, or just on your fridge doors.
Can I Buy Metro Magnets in Stores?
Yes, there are retail stores in Toronto carrying the product. Check out our store listing.
Is There a Discount for Buying in Bulk?
For retailers, businesses, and organizations that wish to buy 10 or more sets of Metro Magnets, we can offer discounted pricing. Send an email to discount@metromagnets.com.
Watch the Promo Video
Who Makes Metro Magnets?
Metro Magnets are a product offered by Spacing, a magazine that covers urban issues in Toronto, Vancouver, Montreal, and other cities in Canada. Spacing is considered a leading voice on Canadian urbanism and is the co-recipient of the 2010 Jane Jacobs Prize.